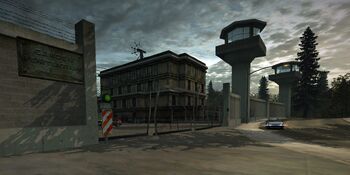 Camden Penitentiary is a prison located in Camden, between Rockport Museum and Ocean Hills. According to a sign, the Penitentiary was established in 1946.
The Penitentiary has a set of corners (used in Ironhorse & Coast or Waterfront and Stadium & Chase), and a rooftop jump shortcut that can be used in Bristol & Diamond but blocked off by blue barriers in Waterfront.
Previously, one of its levels could be used to stand still during a pursuit without getting busted, until security measures were introduced to prevent the exploit.
Since Spot The Devs 9, it has been simply referred to as The Jailhouse.