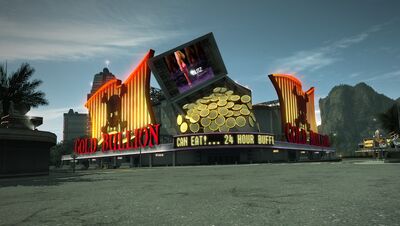 The Gold Bullion is a pirate themed casino in the south side of the Starlight Strip district of Silverton. It can be found on a junction between the strip and the Neon Mile, facing the chapel.
It has a sculpture of a treasure chest with gold coins spilling out, that have a silver inner circle with the EA logo engraved in it, whilst the inside of the lid has a billboard.
On two sides, it has a big red/orange/gold/yellow pirate flag shaped neon sign with the skull and crossbones symbol, and the casino's name in big red neon letters at the bottom.