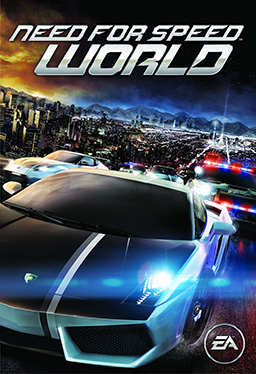 This is a timeline of Need for Speed World's History most important moments. If you think something is missing or is incorrect then please edit.
2010-07-01: The first Worldwide BETA is open.
2010-07-20: Players with Starter Packs can now enter the game.
2010-07-27: All Players are now allowed to play without the starter pack and play until level 10.
2010-08-10: NFS World has 1 million registered users. Starter Pack Restriction is removed.
2010-08-18: Welcome to Oktoberfest. Players can win prices from Logitech if players can beat the leaderboard times on Welcome to Oktoberfest.
2010-09-29: Ghostwood. Players can win a Nvidia 1GB Video card if they can beat their own leaderboard times on the track Ghostwood.
2010-11-16: Version 5 is launched introducing Performance Customization and Card Packs.
2011-03-29

: A New Game Mode is introduced. Team Escape

.
2011-06-27: Another Game Mode is introduced. Treasure Hunt.
2011-06-27: One of the biggest errors is made in the game: Murciélago LP 640 was free for 45 minutes and players took the chance to abuse this window. All cars are taken back 1 week later.
2011-07-26: Need for Speed World's First Birthday. Porsche 959 is introduced, 1000 Speedboost is given for free, special YEAR 1 license plate and a Year 1 vinyl released.
2011-09-11: Server Problems making the game offline more than 40 hours. 1000 Speedboost is given for free as redemption.
2012-05-30 : Skills mod is introducted to the game. It replaced the old skill points system.
2012-07-24 : Need for Speed World's Second Anniversary. The Chevrolet Camaro ZL1 (2012) is made available for free for all registered users at the time. In addition, special YEAR 2 license plate, YEAR 2 neon, YEAR 2 vinyls, and additional Chevrolet Camaro ZL1 (2012) vinyls released.
2012-09-27 : Supercars are introduced in the game, with the Porsche Carrera GT being released after Spot The Devs 10.
2013-04-10 : Achievements are introduced to the game. Players are able to unlock rewards such as parts, card packs, and cars by completing in-game achievements.
2013-07-26 : Need for Speed World's Third Anniversary. By the end of the week, 81 vehicles on sale for 30% off, "spicy" Top-Ups Gifts, release of Mercedes-Benze SLR McLaren Stirling Moss.