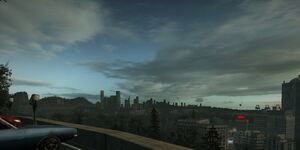 Need For Speed World is an open-world free roam-able game that combines the game worlds of Need for Speed: Most Wanted, and Carbon.
The west side is Palmont City. Palmont's environment mostly consists of urban streets. The Canyons from Carbon have not been included, because they were separate maps. The eastern part is Rockport, a mostly rural city with a more industrial image.
The two cities are connected by two tunnels, a road, and a currently closed and unfinished district.
Map

Mouse-over an icon/area/event on the map above to find out the name of the location/event. Some icons can be clicked on to find an article about the location/event. Use the legend to see what an icon is for.
The map is split into 7 boroughs, which are divided into districts. Events can be found in free roam throughout the world, or accessed via the map in-game (press 'M' in free roam to access map in-game).