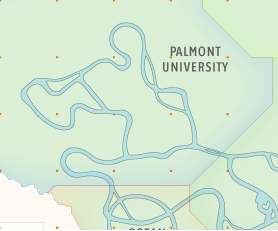 Palmont University
is a large modern university located in
Fortuna
,
Palmont City
. Due to the many buildings that the university consists of and the size of the campus, it is a district in itself. A district could be considered to be the
Palmont University Gardens
, a terrace located on the northern-most curve.
One of the most well-known landmarks in the University is the two flames of Point Lago on the most western part of the map. Badrock Geophysical Observatory is also part of the University, however, it is actually located on Highway 142 in the east of Fortuna.
The circuit University Way takes place exclusively here whilst other events also use some of the roads, like Compromised Team Escape, Skyline Avenue and North Bellezza.
This is one of two universities in World. The other is Rosewood College in Rockport.