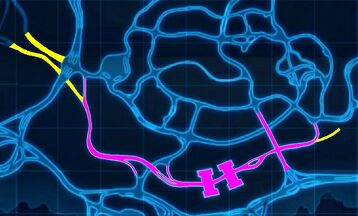 The Rockport Tunnel System is a road tunnel in Downtown Rockport which has exits into parts of Downtown Rockport and is closed at each end. At the west end, it leads down into the closed Lower Rockport West Side district whilst at the east end it leads into an unknown location, possibly Lower Rockport East Side.
The roads are two lanes wide in each direction and there are a few parking lots including two that are not marked on the map, and a strip club entrance. A lot of walls are lined with advertisements.
Throughout the tunnels there are exits to;

The Team Escape Underground goes through here.
Aqueduct
This tunnel wasn't always a tunnel because in Need for Speed: Most Wanted, it was an aqueduct. The section that connects downtown to the highway near the east end was a road tunnel that crossed over the aqueduct. Neither end was connected to any outside districts as they were both dead ends.