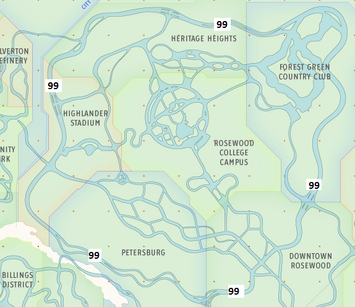 This page needs to be cleaned up. Please help us fix this page by converting parts of this page into 3rd person.
Rosewood is the natural and college area in Rockport City. Players can get to Rosewood easily via the tunnels located in Infinity Park and Silverton Refinery, along with the long tunnel in Kings Park, Downtown Palmont connecting to the Petersburg Interchange.
The drawbridge, next to Highlander Stadium, which was used in the end of Need for Speed: Most Wanted, has been replaced by a tunnel that leads to Silverton instead of first going through Lookout Point.
Districts
There are six districts in Rosewood
Rosewood Town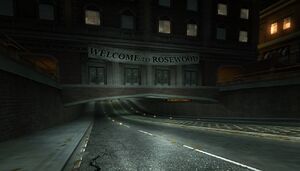 The town of Rosewood spans across Petersburg into the Downtown Rosewood district. It can be found between the high mountains of Petersburg and the Campus.
The south (Downtown) end has a junction where it connects to Highway 99 and a welcome banner on a building that bridges over the road. This building is one of the locations fireworks are launched on during New Year's night.
The north end is known to have the real location of Heritage Heights. The developers of World gave the name to the north-east district of Rosewood but according to the tracks from Most Wanted, the original location is actually in the north end of this town.
Events
There are currently 23 race events starting in Rosewood.
There are currently three Drag Races.
There is currently only one Team Escape.
| Track | Time | Class | Strike | Heat |
| --- | --- | --- | --- | --- |
| Home Run | 6:30 | C | 3 | 3 |
There is currently one Pursuit Outrun.
See Also