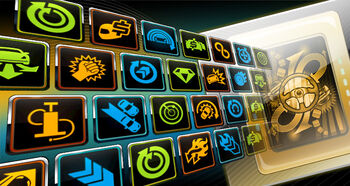 Skill Mods provide the ability to customize skills any time a player wants. They replaced Driver Skills and are similar to Performance and Aftermarket parts, which can be won from events or purchased as part of packs.
These Skill Mods can then be applied to a specific car with a maximum of five mods per car, 6 if it is a Treasure Hunter car, Juggernaut car or a Drag racing car. Quality is based on a stars rating system where parts range from 1-star to 3-star. After being exclusive to the Pagani Zonda F Roadster 'VIP' Edition, 4 Star Skill Mods were released on December 13th 2012.
With the old Driver Skill system there were a total of 24 skills. Skill Mods have a total of 30 skills, however, some skills have been removed. Among those removed are the handling, acceleration and top speed skills which increased car performance in races by 20% in each category.
How to Acquire Skill Mods
Skill Mods can be won from the Lucky Draw after completing Race and Team Escape events, purchased from Card Packs using SpeedBoost, won in Treasure Hunt, or from individually buying them from the store in the Skill Workshop. Every Skill Mod can be won from Lucky Draw with the exception of Treasure Hunter or Heavy Mass and Aero Drag which come pre-installed on Treasure Hunter, Juggernaut, Drag Edition cars and SUVs.
Transition From Old Skills to Mods
When the new Skill Mod feature was implemented, players received:
Skill Mods corresponding to the player's selected Driver Skills In their inventory (e.g. New Ram level 3 will replace old Ram level 5).
The number of Skill Mods received in inventory was multiplied by number of cars owned (maximum of 125 skill mods).
Quality of the parts players received are 150% better than the rank of Driver Skill previously used.
For lost handling, acceleration and top speed skills, players were given corresponding performance parts for each car tier (maximum of 50 performance parts).
For other skills which have been retired, players were be given the Skill Mods that most closely fulfill the same purpose as the old Driver Skill. Players received Skill Mods based on the current Driver Skill points that have been used. Therefore, if they had any driver skill points that haven't been used, those points will disappear.
How to Apply Mods to a Car
Skill Mods are similar to Performance and Aftermarket parts in that once they are installed on a specific car, that car will enjoy the benefits of those mods for as long as they are applied. Once a Skill Mod is removed that car will no longer receive its effects.
Skill Mods are applied in the Skill Workshop.
Note: Treasure Hunter or Heavy Mass and Aero Drag have their own separate slots so players can still add a maximum of five mods to the car.
Complete List of Skill Mods
Race Skills
Icon
Skill
Description





Total Bonus
Aerodynamic
Increases the performance boost from Slingshot
12,500
3-6%
7-10%
14-17%
18-21%
30%
Catch Up
Increases acceleration if in third place or lower
12,500
2-4%
6%
10-11%
12-13%
20%
Extended Nitrous
Increases the duration of Nitrous
12,500
7-13%
18-20%
30-36%
40-46%
66%
Headstart
Increases the duration of the Perfect Start boost
12,500
1-2s
2-3s
3-4s
4.5-5s
5s
Jumpstart
Allows powerups to be used sooner at race start
7,500
1-2s
2s-4s
4.5s-6s
6.5s-7s
10s
Magnetized
Increases the duration of Traffic Magnet on opponents
12,500
3-7%
9-10%
16-18%
20%
33%
Momentum
Increases the duration of Slingshot
10,000
3-7%
9-10%
16-18%
20%
33%
Perseverence
Increases the cooldown speed of Slingshot
10,000
5-10%
13-15%
23-28%
31-34%
50%
Rapid Fire
Increases the cooldown speed of Nitrous
12,500
5-10%
13-15%
24-28%
31-34%
50%
Redline
Increases the RPM range to get a Perfect Start
10,000
3-6%
7-10%
14-17%
18-21%
30%
Rolling Fortress
Increases the duration of Shield
7,500
5-10%
13-15%
24-28%
31-34%
50%
Safety First
Increases the cooldown speed of Shield
7,500
5-10%
13-15%
24-28%
31-34%
50%
Super Shot
Increases the acceleration boost from Nitrous
12,500
5-10%
13-15%
23-28%
31-34%
50%
Traffic Cop
Increases the cooldown speed of Traffic Magnet
10,000
5-10%
13-15%
24-28%
31-34%
50%
Takeoff
Improves initial launch speed in Drag races
12,500
8-20%
20-30%
34-45%
45-48%
75%
Well Oiled Machine
Increases Good and Perfect Shift ranges in Drag races
12,500
10-20%
25-30%
35-45%
60-65%
100%
Aero Drag
Optimized to improve Performance in Drag races
-
Cannot be Customized
Explore Skills
Icon
Skill
Description





Total Bonus
Bounty Hunter
Increases Cash earned from Pursuits and Team Escapes
12,500
3-6%
7-9%
14-17%
18-21%
30%
Explorer
Increases Cash earned from Treasure Hunt
12,500
5-10%
13-15%
24-28%
30-34%
50%
Lightning Reflex
Increases the cooldown speed of Ready
7,500
7-13%
18-20%
30-36%
40-43%
66%
Radar
Detects all Cops within x meters on the map
7,500
50-100m
125-150m
225-275m
300-325m
500m
Socialite
Increases Cash earned from Multiplayer Races
12,500
3-6%
7-9%
14-17%
18-21%
30%
Treasure Hunter
Ability to detect treasure on map
-
Cannot be Customized
Pursuit Skills
Icon
Skill
Description





Total Bonus
Cooldown
Decreases the time required to escape a pursuit
10,000
5-10%
13-15%
24-28%
31-34%
50%
Demolition
Increases the force of Juggernaut
10,000
3-4%
6-8%
14-15%
16%
25%
Evasion
Increases the power of Emergency Evade
10,000
5-10%
13-15%
24-28%
31-34%
50%
Heavy Mass
Car is extremely heavy
-
Cannot be Customized
Overdrive
Increases the range of Emergency Evade
7,500
20-40%
50-60%
90-110%
130%
200%
Ram
Increases car weight in collisions
12,500
5-10%
13-15%
24-28%
31-34%
50%
Rampage
Increases the duration of Juggernaut
12,500
5-10%
13-15%
23-28%
31-34%
50%
Rapid Refill
Increases the cooldown speed of Run Flats
7,500
5-10%
13-15%
23-28%
30-33%
50%
Reload
Increases the cooldown speed of Emergency Evade
7,500
8-15%
19-21%
30-40%
45-49%
75%
Unrelenting Force
Increases the cooldown speed of Juggernaut
10,000
3-7%
8-10%
16-18%
20%
33%