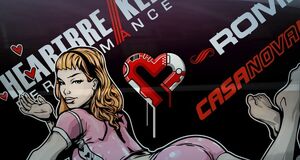 Valentine's Day is one of the holidays that NFS World celebrates with special offers and items.
On the week of Valentine's Day 2011, a special pack of new Valentine's Day themed vinyls were released for a limited time only. They were very popular due to their resemblance to sponsor logos, words and pictures. Using these vinyls allowed players to create what looked like sponsors on their cars. It was only available through referring a friend on Facebook.
2011
Two special edition cars were also released in an offer called 'The Beauty and The Beast'. It included the Lexus IS F "Beauty" Edition, and the Chevrolet Corvette Z06 "Beast" Edition.
The IS-F had a special pink sparkle effect similar to the snowflakes effect on the Porsche 911 Turbo "Snowflake" Edition and was also the first car to be released with a female driver model.
2012
On February 7th, 2012, The Beauty and The Beast were re-released and re-tuned, and a new Beauty and new Beast were also released. Chevrolet and Lexus switched sides as the new Beauty was the Chevrolet Corvette Z06 Carbon Limited Edition and the new Beast was the Lexus LFA.
In addition to the new cars there was also a new Valentine's Day aftermarket card pack, featuring love themed aftermarket parts.
The vinyl pack was released as a Top-up bonus for all non-SMS SpeedBoost purchases on Valentine's Day for a limited time only.
The highly demanded Mazda RX-8 (2006) was also released on Valentine's Day and available from car dealer.
2013
In 2013, the Valentine's Day celebrations directly followed the celebration of another holiday, the Chinese New Year.
One week before Valentine's Day, Valentine's-themed neons were added to traffic cars and the Beauty and the Beast editions from previous years were added to the selection of cars that appear in a single player race.
The earlier The Beauty and The Beast cars were re-released as the Beauty and the Beast car pack in February 12th, 2013. The cars were also re-released in the Car Dealer as on sale cars the same day.
On February 13th, 2013,  the new the Beauty and the Beast cars, the Koenigsegg CCXR Edition and the Lamborghini Aventador LP 700-4 were released. Unlike previous years, these were not the usual Lexus and Chevrolet duo, which has been the car manufacturer for the previous the Beauty and the Beast cars.
Trivia
Every "Beauty" edition car has the name "Juliet" inscribed on it.
Every "Beast" edition car has the name "Romeo" inscribed on it.
This is a reference to "Romeo & Juliet" by Shakespeare.